He was not only a promise, he had won twice San Remo ( 1966,1967)
Even though he had suffered with Van Looy in Solo Superia, he overcame that, he was good enough ( and with a strong personality) and signed for Peugeot in 1966 to succeed.
His first big Tour was a good experience ( top ten and two stages ), and the Worlds in Heerlen were a good challenge but he was not the big favourite.
However the Belgian won the race in front of the local star Janssen and the Spaniard Saez
That was his last big win with Peugeot, he had signed with Faema, 1968 was going to be a year of confirmation.
But the start of the seasonwas difficult, he failed in the attepmt of winning his third San Remo, and only finished 9th at Flandes. Rivals were racing against him and Merckx , who was still 22 years old was a little nervous " they only ride to make me lose........, the rainbow makes me easy to recognize........".
But then the 7th of April came, Paris Roubaix, from Compiegne to Roubaix, 262 kilometres and a new section of Pave............Aremberg..........
A 2,400 km length section that would quick became the most famous part of the classic........
Merckx was not optimistic, but when the race started...........it was definitively a hell............but for Merckx rivals, because the Belgian was turning into a legend.
It was a very difficult day, as usual with punctures, falls and mechanic problems for riders, but Merckx survived and set a very big tempo........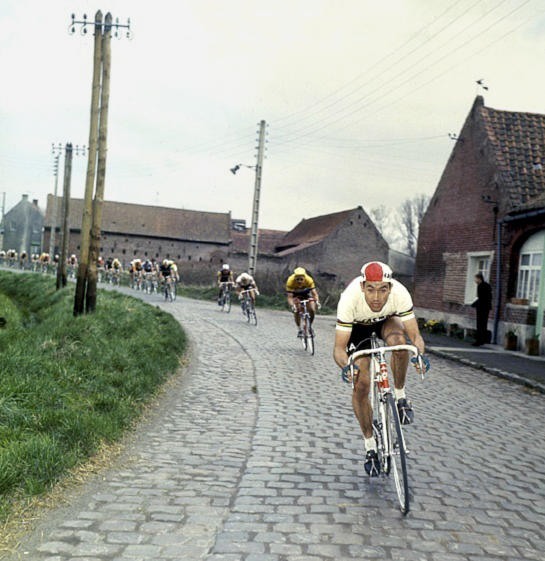 Photo forums.sport.francetv.fr
And what to say about Aremberg, it was a total hell for riders
The strength of Merckx finally blew up the race with 52 kilometres to go, first in the companion of Van Springel, Sels and Bocklandt
Photo Antonio Sevillano
Photo miroir de cyclisme
...and later only with Van Springel. Bockland couldn´t ride with Merckx and Sels had a punture that left the couple at the front. Godefroot was chasing hard behind them, but nothing could be done, Merckx was going to improve his 15th position of 1966 and the 8th of the previous year, and he was going to win , Van Springel was nobody to discuss him the victory in the sprint , and he was winning with the rainbow jersey a double honour.
7 hours , 9 minutes and 26 seconds had trasformed suffering into glory, Merckx had won Roubaix for the first time.........
1º. Eddy Merckx
2º.Van Springel
3º.Godefroot...........1'37"
4º.Sels.....................3'11"
5º.Van Shil...............3'11"
6º.Poulidor...............5'05"
.....
8º. Janssen...............7'46"
An impressive Belgian top 5. Only 44 riders finished a race with several crashes.
Merckx was delighted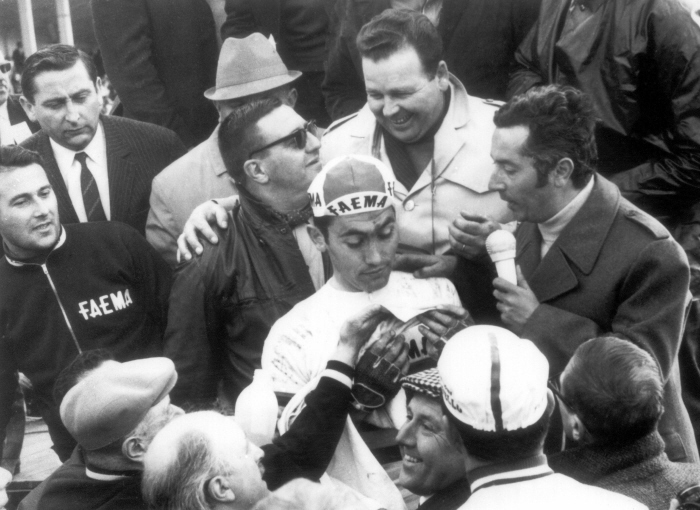 Photo http://forums.france2.fr
" I was really looking forward to winning a good race with the rainbow jersey, it is gratifying"
Weeks later he would win the Giro with a great performance at Lavaredo,
Merckx´s era had started, he was going to be unstoppable till 1975, only some riders and in punctual moments would be able to beat him.
Merckx would win two more times in Roubaix, 1970 and 1973, with Faemino and Molteni
Photo www.tumblr.com
Photo Antonio Sevillano
He would became the best cyclist ever in classics...and in all type of races, Roubaix had not been a hell but a pleasure for him.
He simply was Merckx, Eddy Merckx.