Pedro Delgado and Robert Millar were two of the best climbers during the 80s. They had several coincidences and fights. Perhaps the most famous one is the "Vuelta a España 1985", but when you compare their sporting careers, you will find a point in common, the Pyrenees.
So we will develope some interesting stages, starting with Pau- Bagneres de Luchon 1983.
Two young and promising riders in their first Tour de France.
The Tour 1983 was a strange Tour, without a clear boss, due to the knee injury that forced Hinault to refused to take part. But it was a great Tour with several young riders in contention and with another one who was waiting for another year, like the young American Greg lemond ( winner of the Dauphine, because the winner Pascal Simon had a positive in a test and was penalized with 10 minutes and a banned month after the Tour)
Lemond, Anderson Dauphine 83. wwwgreglemondfan.com
It was an attractive Tour with several individual time trials, pavé, and few but very steep mountain stages. Only three indeed. One in the Pyrenees and two in the Alps.
The race was very exciting with some young riders such as Fignon, Roche, Millar, Delgado, Anderson against older ones such as Zoetemelk, Van Impe or Kelly...........and the new climbers, the Colombian riders.
There was a very good team, Peugeot, with Millar, Roche, Anderson and Pascal Simon and when we reached the gate of the Pyrenees, the city of Pau, the leader was one of the favourites, the Irish Sean kelly
1. Sean
Kelly
en 42h06'38"
2. K.Andersen à 1"
3. Anderson à 39"
4. Zoetemelk à 1'24"
5. J.L.Vandenbroucke à 2'10"
6. Roche à 2'14"
7. Kuiper à 2'27"
8. P.Simon à 2'45"
9. Moreau à 2'46"
10. Willems à 2'47"
11. Agostinho à 2'59"
12. Van der Velde à 3'27"
13. Fignon à 3'57"
14. Poisson m.t
15. Emonds à 4'35"
Kelly was not reliable in the mountains and Zoetemelk and Anderson were the favourites. Spaniards and Colombians were waiting for his moment, and here it was.
The first duel between a Scottish and a Spaniard was going to start, the first direct fight between Millar and Delgado was imminent.
That 11th of July of 1983, both of them were going to be known by the French public............
10th stage. Pau - Bagneres de Luchon
Here we have the climbs, two 1st category and two Hors category ones:
Col de Aubisque, 17,3 km at 6,9%. Hors category.
Profile www.altimetrías.com
Col de Tourmalet, 18,8km at 7,47%. Hors category.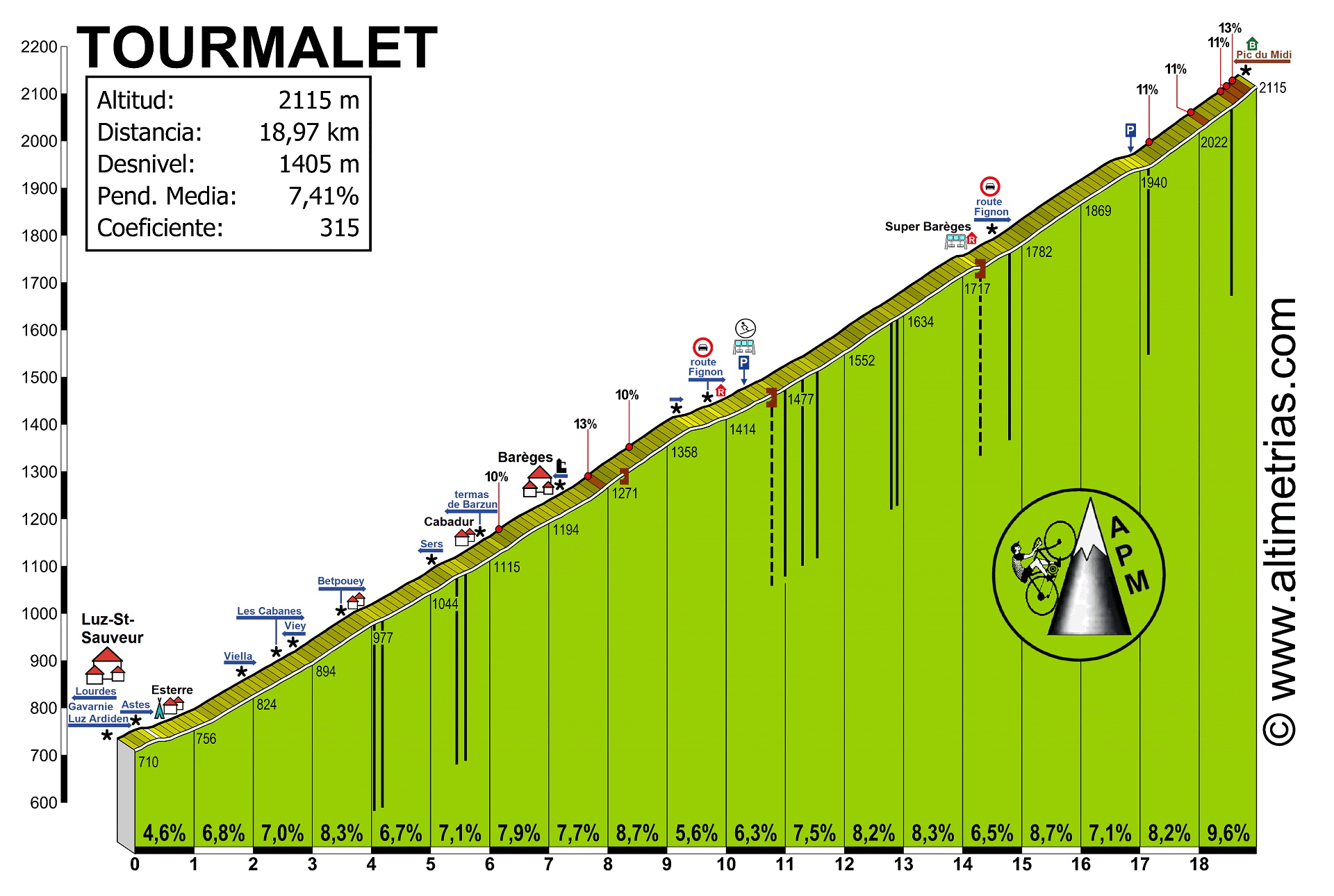 Profile www.altimetrías.com
Col de Aspin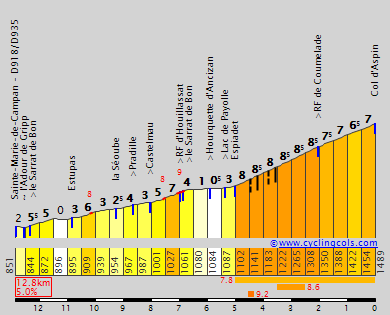 Last 12 km profle www.cyclingcols.com
Col de Peyresurde
And the stage exploded since the beginning, with Colombian riders attacking as much as possible in spite of the bad day of their leader Flores.
Lucien Van Impe was first in the Aubisque, but some favourites with the leader Kelly were dropped.
In the descent of the Aubisque Michaud scaped and later Robert Millar and the Colombian Jiménez did. Some riders were chasing them( Fignon and Delgado were there) . The bunch was relaxed so Kelly could recover the disadvantage.
Once the Tourmalet started, Jiménez and Millar pushed hard and they passed Michaud , who was caught by Fignon and Delgado, who were ridng more than two minutes behind the leaders.
Jimenez is first in the summit and the diferences are high, Delgado is nearly 4 minutes ahead and Fignon and Michaud some seconds behind him.
When the riders faced the Aspin the diferences had decreased between Millar-Jiménez and Fignon-Delgado-Michaud to less than three minutes. Between the favourites kelly is out of contention, and Anderson is losing ground.
Fignon and Delgado are riding quick and Michaud is dropped
Photo Loco de los Pirinieos, resubida omarperiko
Behind them Corredor is near and Pascal Simon attacks, he is well placed in the overall and he and Millar the only Peugeot in a good situation.
Jiménez is first in the col de Aspin, with Millar second, Delgado an Fignon are 1'50" behind and Michaud, Corredor and Bernaudeau closing gaps. The "main" group is more than seven minutes ahead.
In the valley a chasing group is formed, Simon, Bernaudeau, Fignon, Delgado, Michaud and Corredor. Simon is now the new yellow jersey. He nows it and he take the first position of the group in the first sloppes of the Peyresourde.
The French is riding strongly anfd Fignon, Michaud and Bernaudeau dropped early. Corredor was suffering and finally cracked, only Delgado resisted. Millar and Jiménez were leading by less than two minutes.
Photo www.cyclingart.blogspot
Delgado rested a little on Simon´s wheel and then attacked. He closed the gap to Millar and Jiménez and Millar was told about it.
Millar dropped Jiménez near the summit and the differences were 20" to Jiménez and 35" to Delgado reaching the banner of the climb, the stage was not sure for the Scottish and the couple Millar-Delgado were having their first duel in the Pyrenees.
Delgado caught Jiménez and left him, risking a lot and closing the gap, 27". The French commentators were excited, " le fou des Pyrenees" could still win the stage..................what a descent for the young Spaniard.........
15", Millar was riding hard but Delgado was getting closer...............12"........last kilometer, 9"...........Millar was gong to win, a strange day for Peugeot, Millar was going to win, Simon leader and Roche and Anderson totally out of the Tour.
Millar and Delgado had had a good fight , but the win was going to Millar........by a short margin......just 6 seconds. It was ridiculous after a hard and hot stage with more than 6 hours on the bike.
Simon finished third at 1'13"...
Photo www.sportvox.fr
...........Fignon was 7th at 4'23".
1. Robert
Millar
6h23'27"
2. Delgado à 6"
3. P.Simon à 1'13"
4. P.Jimenez à 1'30"
5. E.Corredor à 3'40"
6. Bernaudeau à 4'06"
7. Fignon à 4'23"
8. Michaud à 5'45"
11. Van Impe
13. Arroyo à 7'42"
15.Zoetemelk à 8'55
16. Winnen
18. Kelly à 10'11"
25. Anderson à 12'41"
27. Roche à 13'41"
A terrible stage for favourites.
The overall was lead by Simon with Fignon 2nd , 4'22" ahead of Simon
Simon had to quit some stages later ( due to a shoulder blade fracture) in Alpe D´Huez and Fignon took the yellow to win his first Tour, a great Tour, the 1983 edition.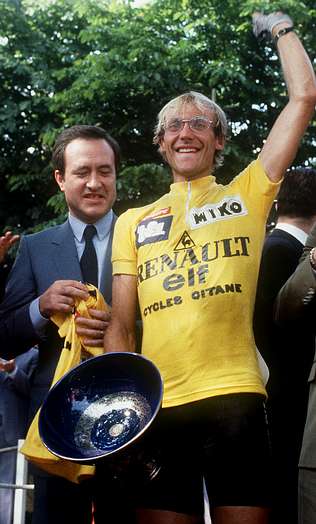 Photo www.lavozdegalicia.com
But that duel, in appeareance a casual duel, was going to be one of the most important ones in the 80s, thanks to Robert Millar and Pedro Delgado, two great climbers in a golden era for cycling.